How to buy CAPS
This tutorial provides you information on how to buy CAPS, the token used by Secret Stash.
We will discover two techniques:
- The first one is the easiest, it uses Ascendex a centralized exchange (CEX) that interacts directly with the Ternoa chain.
- The second technique uses decentralized tools (DEX + bridge), it requires some additional skills and consumes more fees.
In both cases your wallet will be filled in CAPS tokens at the end. Let's get started!
Using Ascendex CEX
Ascendex is an official centralized exchange (CEX) platform to buy CAPS tokens. First you need to create a verified account here, fill in with fiat money and get some $USDT stablecoin tokens.
Next navigate to the trading pair CAPS/$USDT page here.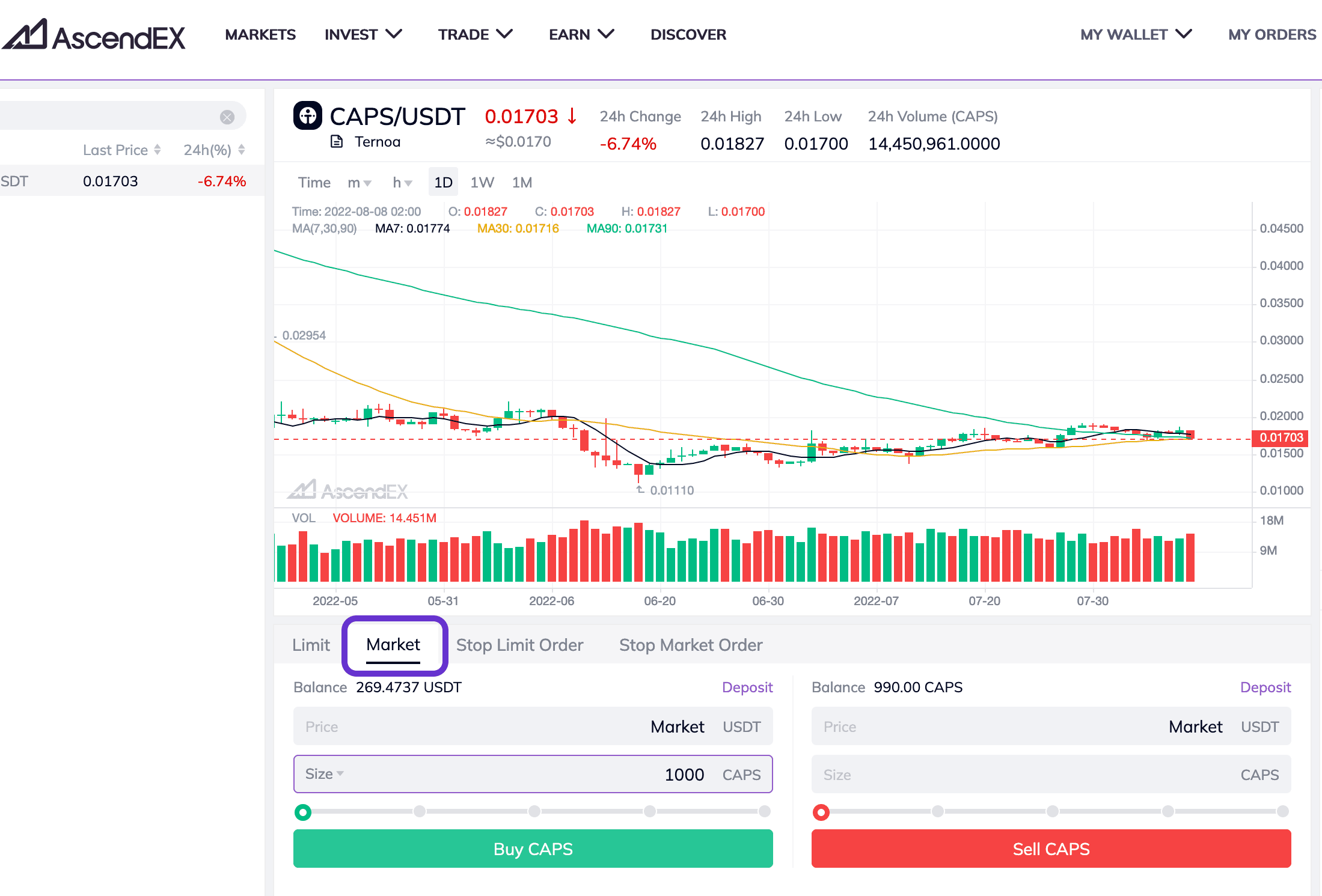 Click on the Market tab and enter your CAPS amount desired depending on your $USDT balance. Then click on the Buy CAPS green button.
You are now a CAPS holder, well done. However your tokens are only available on the Ascendex platform, you have now to transfer them to your personnal wallet which will be connected to Secret Stash. If you don't have a Ternoa wallet address yet, follow this tutorial: Create a Ternoa address. Navigate to your Assets page in Ascendex to withdraw your tokens.

Find your CAPS tokens and click on More... and Withdraw. This will take you to the withdrawal page.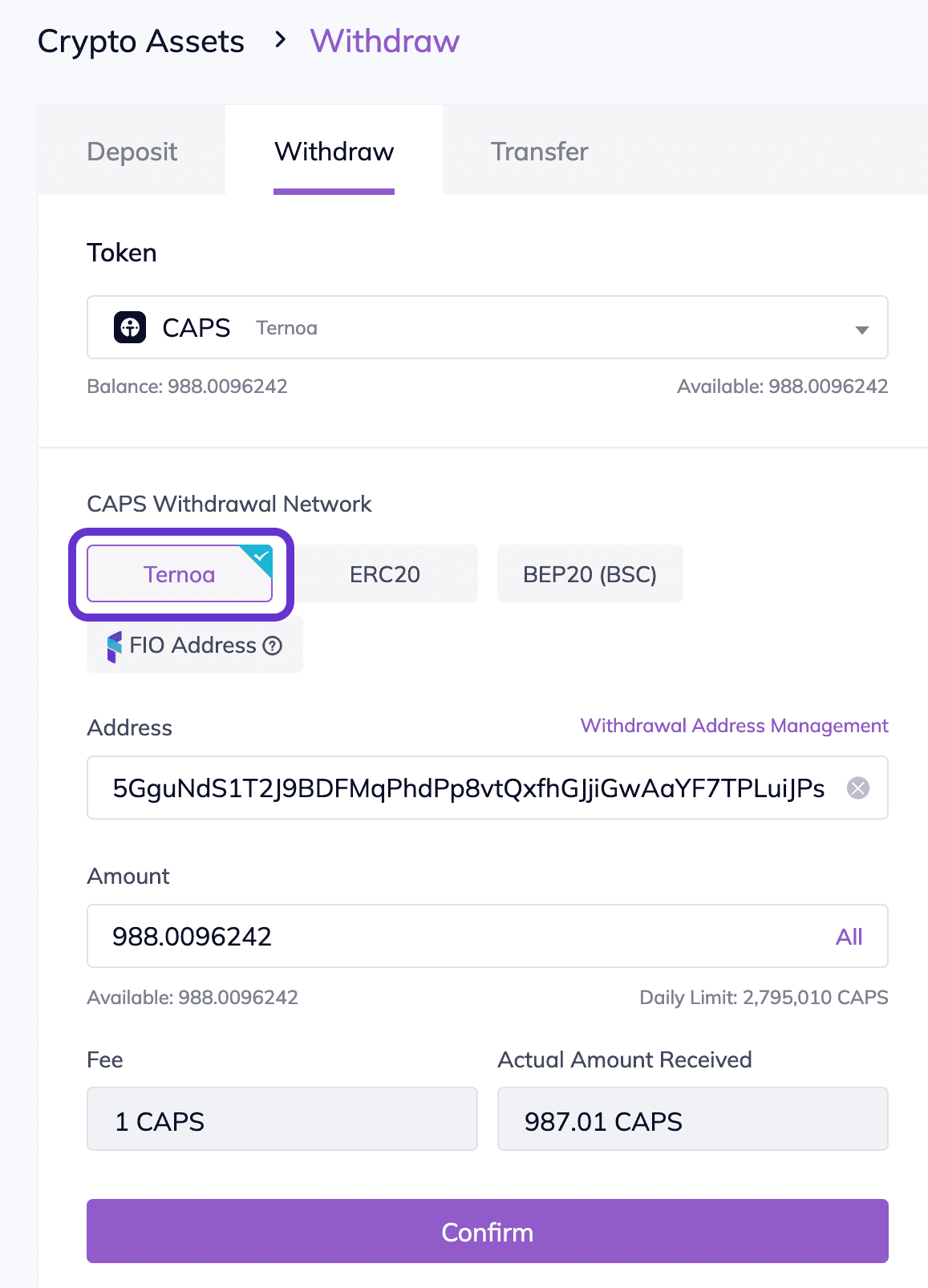 Select the Ternoa network, add your Ternoa address created previously and choose the CAPS amount to withdraw as shown in the image above. Click on the Confirm purple button and complete the 2FA process.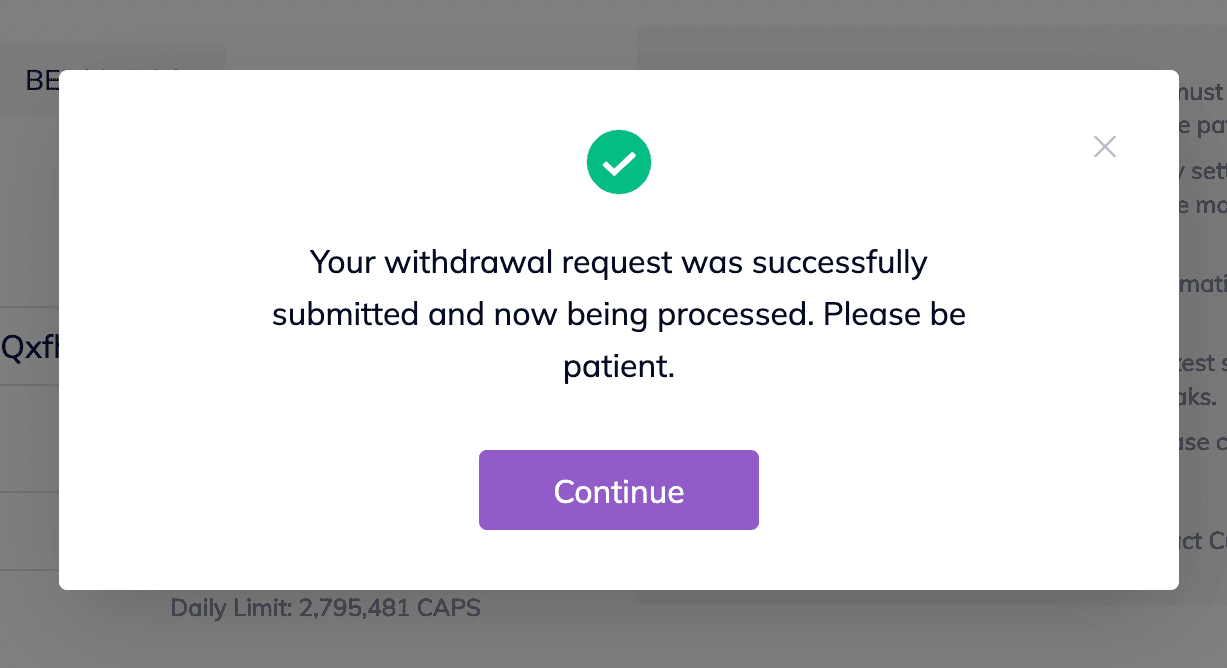 Congratulations, in a few minutes your tokens will be available on you Ternoa address!
Using DEX + Ternoa Bridge
DEX are decentralized exchanges, you don't need to create a specific account, you only need to connect your wallet like Metamask and you are good to swap. In the following example we are going to use Uniswap connected to the Ethereum network .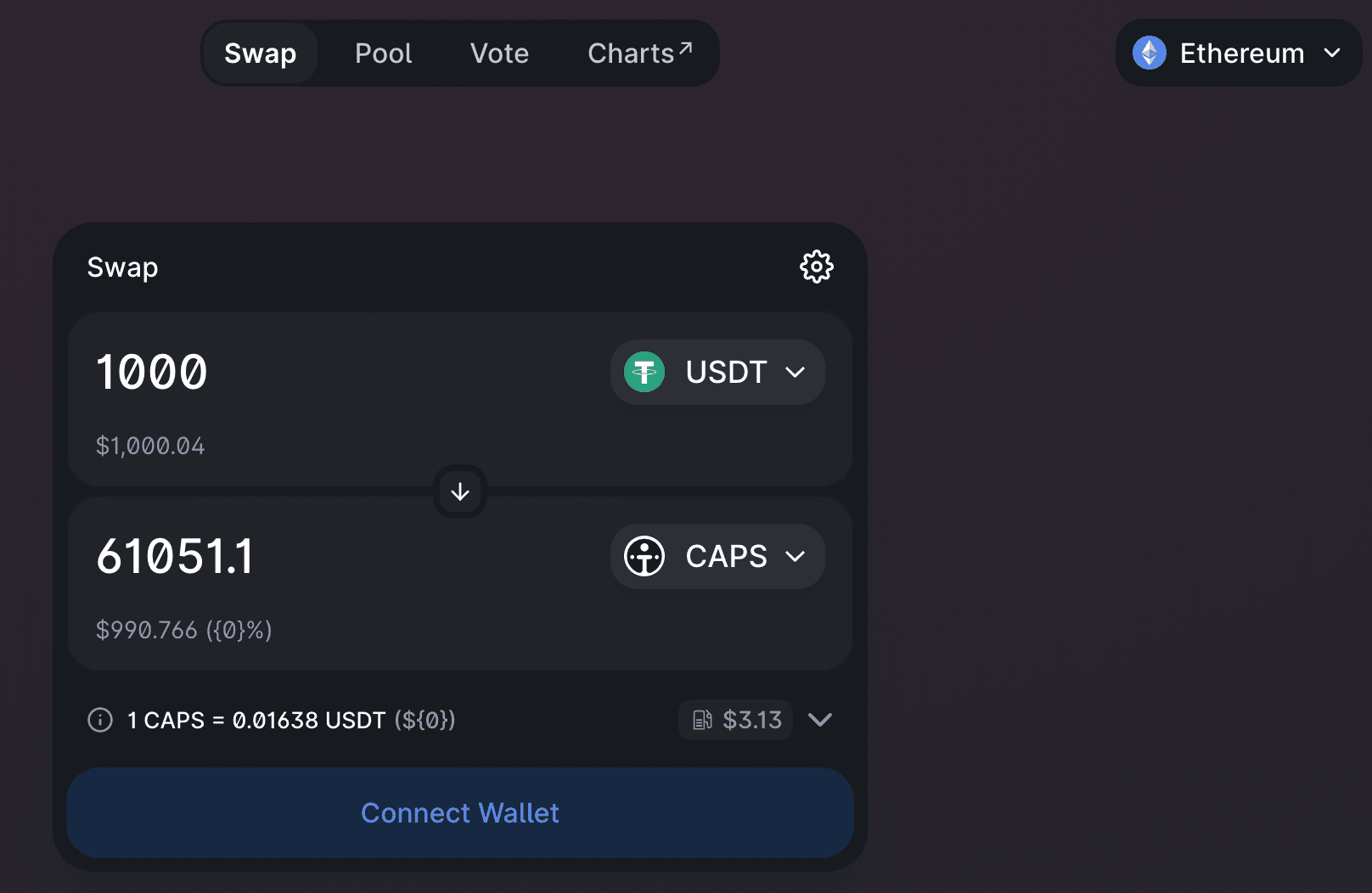 We are swapping $USDT into CAPS but you can select any token as origin. Connect your wallet, accept the Uniswap protocol contract and swap your tokens. You are now a CAPS holder, well done. However your tokens are only available on the Ethereum network on your Metamask, we need to bridge them to the Ternoa chain. We are going to use the official Ternoa Bridge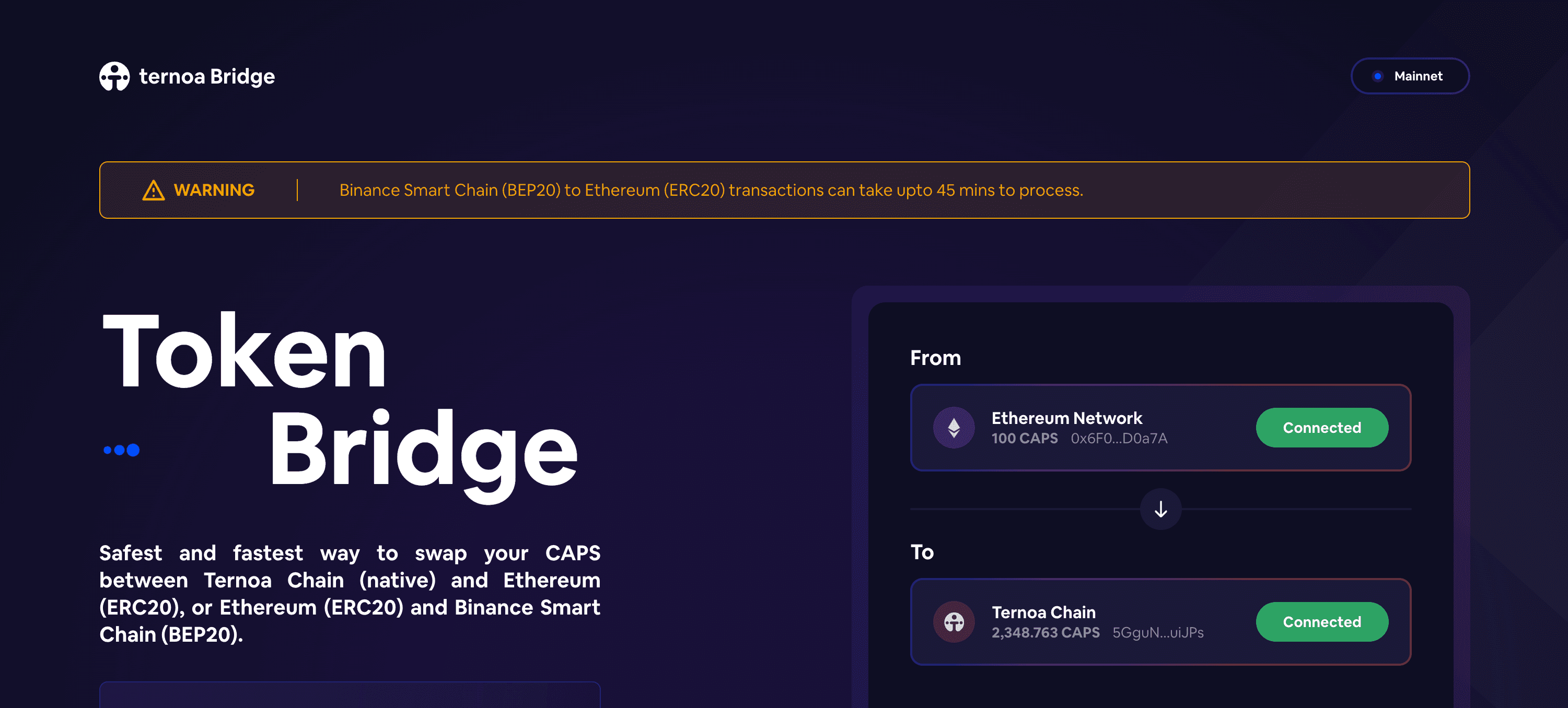 The bridge flow is similar to the previous swapping flow. First you need to connect your Metamask wallet and select the correct network: Ethereum. In addition you need also to connect your destination Ternoa address using the polkadot extension and select the Ternoa network. Enter your amount and click on the Continue blue button.
A confirmation modal will pop providing some additionnal data such as network fees. Accept the bridge contract and again click on the Continue blue button, wait for the transaction to be processed and in few minutes your CAPS token will be available in your Ternoa address.
Whatever method you choose, you have now some CAPS tokens. Enjoy creating, selling and managing NFT on Secret Stash!